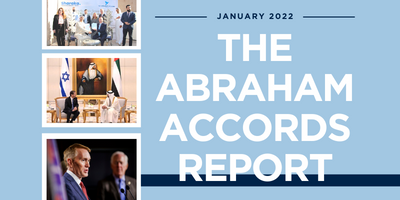 The historic Abraham Accords peace agreements have created unprecedented opportunities to strengthen economic, cultural and people-to-people ties between the Accords countries and beyond. AAPI's monthly newsletter will provide insights into the development of these ties, updates regarding past and upcoming AAPI initiatives, and information on opportunities to participate in strengthening the Abraham Accords.
Follow along below and each month as we track regional progress and provide you with a one-stop information hub on the Abraham Accords.
January Developments:
Following a year of historic deepening of relations between Abraham Accords countries for the year 2021, the first month of 2022 saw continued momentum towards the expansion of ties.

January featured numerous indications of widespread international support for the Accords, with the announcements of the launch of the United States Congressional Abraham Accords Caucus and the Ambassadorial Abraham Accords Working Group, along with the visit of the UK Abraham Accords Group to the UAE.

Emirati investment in Israeli technology continued with the award of a major contract to an Israeli firm, reports of major investments in venture capital firms in Israel's technology sector, and the establishment of a joint Israel-UAE R&D fund. The end of the month saw significant developments in the healthcare sector, as Israeli companies traveled to Dubai to attend a major medical technology exhibition, the Abu Dhabi Department of Heath announced a collaboration with the Israel Innovation Authority, and the Gulf-Israel Woman's Forum hosted a Women's health event.

January also saw cultural ties continue to deepen, with Holocaust Remembrance day being observed in numerous Accords countries, tree plantings occurring for the Jewish holiday of Tu B'Shevat, and the launch of a campaign to restore a Jewish cemetery in Bahrain. People-to-People connections between Israel and Morocco expanded with the historic signing of an Israeli professional basketball player to play for a Moroccan team, the signing of a cooperation agreement between the two countries' basketball leagues, and the participation of Moroccan musicians in a prominent Israeli orchestra.
Upcoming Events:
The upcoming months will doubtless see the momentum behind the expansion of relations between Accords countries continue to increase. Abraham Accords related events addressing the potential of the Accords will occur within the region, internationally, and virtually. Additionally, dozens of conferences will occur within the region. These events will be hosted or attended by Accords member nations, feature the display of innovative technology and ideas that promise to facilitate regional cooperation, and result in new agreements being signed. See below for a timeline of upcoming notable regional events:
February 1, 2022 - UAE-Israel Business Council: Relocation to an Abraham Accords Country
February 3, 2022 - Sharaka Morocco-Israel Collaboration Hub: Arts and Culture
February 9-10, 2022 - The International Conference on Artificial Intelligence and Engineering. Agadir, Morocco
February 10, 2022 - Sharaka Morocco-Israel Collaboration Hub: Academia and Research
February 13-17, 2022 - Gulfood 2022. Dubai, UAE
February 14-15, 2022 - International Crop Science Conference & Exhibition 2022. Dubai
February 17, 2022 - Kosovo National Day at Expo 2020. Dubai, UAE
February 17, 2022 - Pinsker Center: The UK and the Abraham Accords. Oxford, UK
February 17, 2022 - Sharaka Morocco-Israel Collaboration Hub: Society and Interfaith Dialogue
February 20, 2022 - Pinsker Center: The UK and the Abraham Accords. London, UK
February 20-26 2022 - UAE Cycling Tour. UAE
February 23-24, 2022 - Food for Future Summit and Expo. Dubai, UAE
February 22-24, 2022 - Dubai International Pharmaceutical & Technology Conference & Exhibition. Dubai, UAE
March 7-9, 2022 - Middle East Energy. Dubai, UAE
March 14-16, 2022 - Dubai International Humanitarian aid and Development Conference. Dubai, UAE
March 21-23, 2022 - Gulf Information Security & Information Conference. Dubai, UAE
March 29-30, 2022 - International Mediterranean Tourism Market. Tel Aviv, Israel
March 30, 2022 - The future of Manufacturing- IL