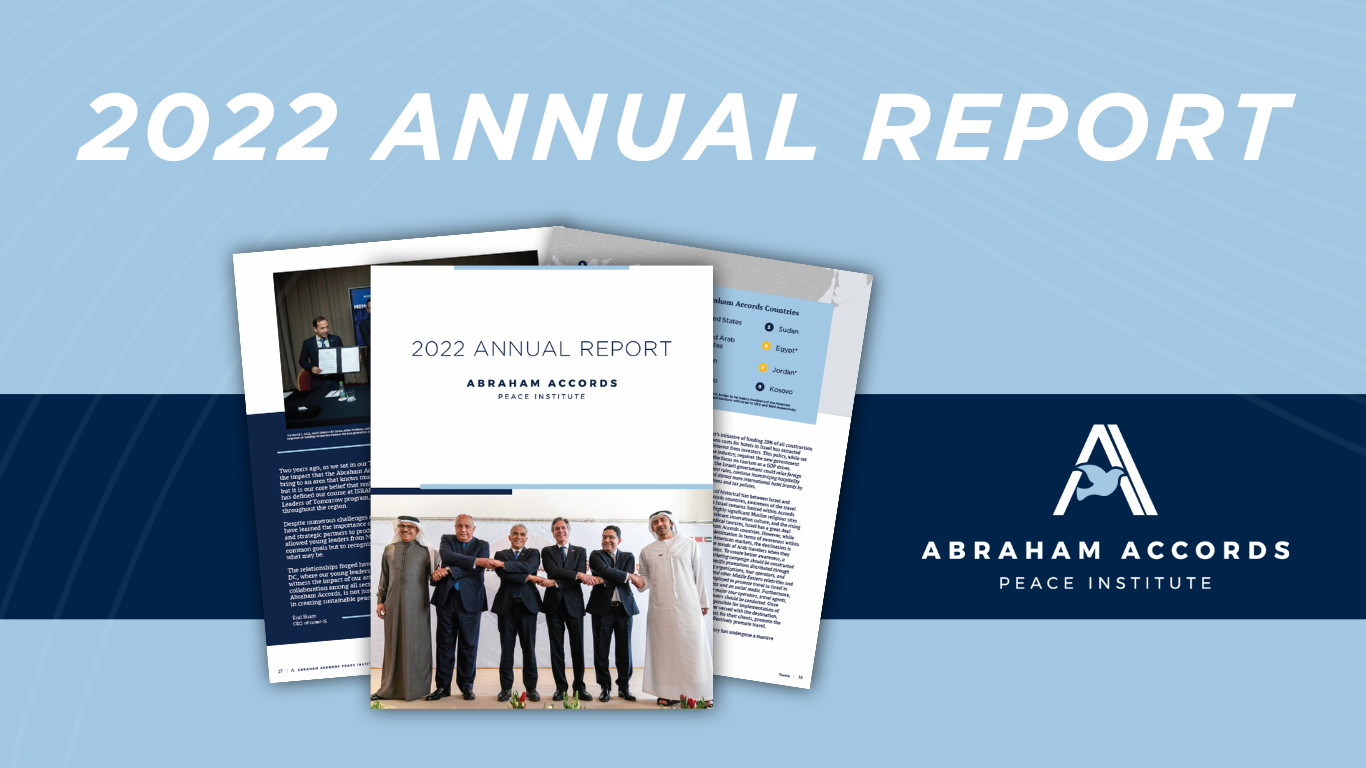 Abraham Accords Peace Institute's Annual Report Reveals New Data About Accords' Successes and Obstacles
The Abraham Accords Peace Institute (AAPI) has released its 2022 Annual Report, the most comprehensive and in-depth report published to date examining the development of relations among the countries of the Abraham Accords. The report examines the evolution of multilateral and bilateral diplomatic, economic, investment, tourism and people-to-people ties among Israel, UAE, Bahrain, Morocco, Sudan, Egypt, Jordan and Kosovo, as well as the critical role of the United States and other international partners. It assesses the development of ties to date between Israel and the UAE as 'Strong', between Israel and Bahrain, Morocco, Egypt, Jordan and Kosovo as 'Fair', and with Sudan as 'Tenuous'.
In addition to analyzing progress to date, the report highlights opportunities to leverage the Accords for strengthening regional stability, economic prosperity, food security and energy resilience, while emphasizing the importance of active US bipartisan support, and the potential for expanded partnerships with Europe and Asia. It also identifies obstacles and gaps in the development of Accords ties since 2020, and provides recommendations for overcoming them.
In 2023, AAPI priorities will include realizing opportunities for increased tourism, delegations and academic exchange, identifying options for Accords members to help alleviate European energy challenges, advancing multilateral agricultural projects to address food security threats, particularly in Sudan, promoting the development of infrastructure necessary for regional overland trade, accelerating cooperation on water security, and developing an Abraham Accords Innovation Network to create synergies between start-up ecosystems.
Some of the takeaways from the report:
Total trade between Israel and regional peace partners reached $3.47 Billion in 2022, up from $1.905 Billion in 2021 and $593 million in 2019.
Outbound Israeli tourism to Abraham Accords countries grew from 39,300 in 2019 to 470,700 in 2022. Israeli tourism contributed an estimated $325 million to the UAE economy in 2022 alone
Regional connectivity- 17 new flight routes have been established between Israel and regional partners.
Abraham Accords retain strong bi-partisan consensus in US and enjoy growing support across Europe.
Areas with significant unrealized potential include incoming tourism to Israel, expanded people-to-people ties, overland regional trade.
Below you can find a timeline of notable Abraham Accords-related events that occurred in the month of January 2023:

January 2-12, 2023: 40 undergraduate student leaders from universities across the United States participated in a 10-day tour of Israel and the United Arab Emirates as part of the inaugural trip of the Israel on Campus Coalition's (ICC) Geller International Fellowship. Their itinerary included meetings with numerous Israeli leaders and officials, local students studying in Dubai, Israeli Ambassador to the UAE Amir Hayek, among others.

January 3, 2023: New Israeli Foreign Minister Eli Cohen spoke with Bahraini Foreign Minister, Abdullatif bin Rashid Al Zayani, stressing the importance of developing bilateral ties. Zayani congratulated Cohen on taking office and wished him success, and the two ministers reviewed the "positive progress in bilateral relations" and discussed "significant projects" that would deepen economic and people-to-people ties.

January 5, 2023: Israel's Minister of Innovation, Science & Technology, MK Ofir Akunis, spoke with Morocco's Minister of Higher Education, Scientific Research & Innovation, H.E. Abdellatif Miraoui.

January 6, 2023: The United Arab Emirates announced that it will now include the Holocaust in the national curriculum at the primary and secondary level.

January 9-10, 2023: The steering committee of the Negev Forum met in Abu Dhabi, with around 150 representatives from the governments of Israel, Bahrain, Egypt, Morocco and the United Arab Emirates meeting to bolster long-term regional cooperation in economic trade, media relations, water and food security, and regional military cooperation, among other sectors.

January 12-January 19, 2023: A bipartisan group of US senators participated in a Congressional delegation to all four Abraham Accords countries for talks with government officials on how to further integrate Israel into the region. The Congressional delegation to Israel, the United Arab Emirates, Bahrain and Morocco was led by Abraham Accords Senate Caucus co-chairs senators Jacky Rosen and James Lankford. They are joined by Democrats Kirsten Gillibrand of New York, Michael Bennet of Colorado and Mark Kelly of Arizona, and Republicans Dan Sullivan of Alaska and Ted Budd of North Carolina. While in Israel the delegation met with Israeli Prime Minister Benjamin Netanyahu.

January 13, 2023:​ MK Dan Illouz (Likud) representedthe Knesset at the Legislators Forum of the International Renewable Energy Agency (IRENA), which was held as part of the 13th Session of the IRENA Assembly in Abu Dhabi. The Forum was attended by dozens of lawmakers from the UAE, Morocco, Qatar, Egypt, Argentina, Pakistan, Sierra Leone, Ghana, Romania, Germany, Uganda, Georgia, Spain, and other countries.

January 16-17, 2023: Israel's Defense Ministry met with their counterparts in Morocco and agreed to strengthen military cooperation including in intelligence and cybersecurity. The meetings, which occurred in Rabat, were the first meetings of what will be an annual defense establishment Steering Committee.

January 19, 2023: The national security advisers from the UAE, Bahrain, the US and Israel met virtually to discuss ways to deepen regional integration in areas such as clean energy, emerging technology, regional security, and commercial relations. A joint statementreleased by the White House stated that "the four counterparts looked forward to further deepening and expanding the progress achieved since the signing of the Abraham Accords."

January 24, 2023: The groundbreaking of the new Jewish school in Abu Dhabi occurred.

January 24, 2023: Israel's Prime Minister Benjamin Netanyahu flew to Jordan to meet King Abdullah II, their first meeting in four years.

January 24, 2023: Israeli cyber company CyTaka hosted the World Cyber Championship for Nations alongside Emirati Cybersecurity Council

January 26, 2023: The non-profit organization "Together—Vouch For Each Other," led by Israeli-Arab activist Yoseph Haddad, hosted an International Holocaust Remembrance Day ceremony for the Arab world. During the event, which was attended by hundreds of representatives from Muslim countries, an Israeli sang the UAE's national anthem, and an Emirati sang the Israeli national anthem.

January 27, 2023: On International Holocaust Remembrance Day, the NGO's Israel-Is and the Moroccan association Mimouna partnered to organize an event dedicated to teaching the Holocaust in Abrahamic Accords and North African countries. The event brought together government officials and representatives of Yad Vashem, as well as young leaders from around the world, in a unique and historic opportunity.

January 28, 2023: The Crossroads of Civilizations Museum in Dubai unveiled a Torah scroll which survived the Holocaust during an event marking International Holocaust Remembrance Day.

January 29, 2023: Casablanca's Beit El Synagogue held a special ceremony to mark International Holocaust Remembrance Day. Attending the ceremony were Morocco's Education Minister, the head of Israel's mission in Morocco, UN representatives in the country, the president of the Jewish community and members of the Jewish community.

January 29, 2023: The King Hamad American Mission Hospital (KHAMH) was inaugurated in Manama, Bahrain. Israel's Sheba Medical Center will play an active role in this hospital.

January 29, 2023:Start-Up Nation Central welcomeda delegation from the Moroccan Agency for Logistics Development (AMDL) to advance collaboration between the two countries in the logistics sector and to promote innovation ecosystems in both countries. The delegation's three-day visit built on a memorandum of understanding (MOU) signed by the two organizations in Casablanca last May during the "Connect2Innovate" conference.

January 31, 2023: Five cyber chiefs of Abraham Accords countries appeared together in public in Israel for the first time at the Cybertech Global 2023 conference in Tel Aviv. The participants were: UAE Cyber Chief Mohamed al-Kuwaiti, Bahraini Cyber Chief Salman bin Mohammed bin Abdullah al-Khalifa, Moroccan Cyber Chief Brig.-Gen. El Mostafa Rabii, US Department of Homeland Security Cyber Chief Robert Silvers and Israel National Cyber Directorate Chief (INCD) Gabi Portnoy.