Institute Updates
AAPI and UAE-IL Tech Zone Partner to Promote Innovation and Tech Entrepreneurship
February 13, 2023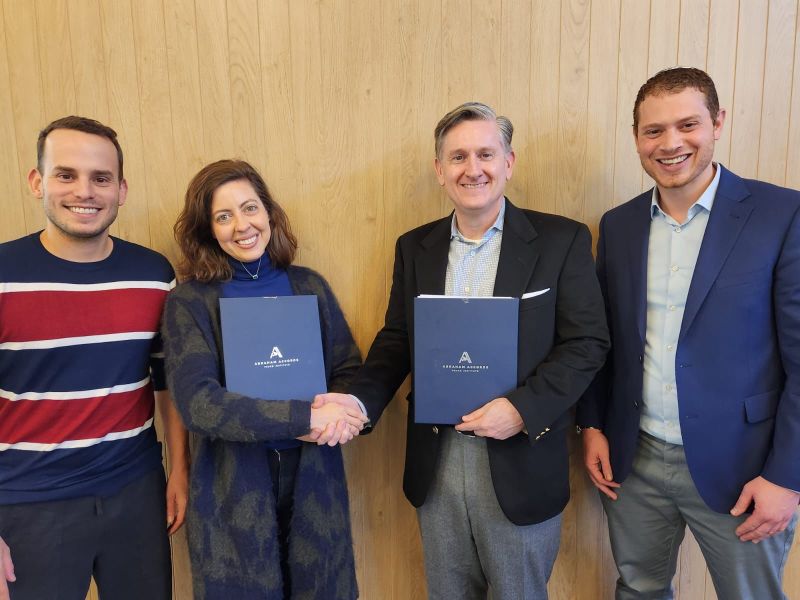 TEL AVIV, ISRAEL – The Abraham Accords Peace Institute is announcing a partnership with the UAE-IL Tech Zone, an organization seeking to foster in depth people-to-people ties between Israel and the UAE and develop regional integration via innovation and technology.
Noa Gastfreund, co-founder of the UAE-IL Tech Zone said of the partnership, "this MOU is more than just a signature on a piece of paper for us at the tech zone, as the Abraham Accords Peace Institute has been a constant supporter of our initiative, truly pushing doors with us on every project we ever took on. We are thrilled to formalize our partnership with people we consider friends and whose vision fits ours effortlessly."
AAPI and the UAE-IL Tech Zone will collaborate to promote innovation, technology entrepreneurship, and people-to-people ties across Accords member countries, helping the region to more effectively address issues ranging from food security to healthcare to sustainable development.
AAPI President and Executive Director Rob Greenway noted, "innovation and people-to-people cooperation are critical for realizing the transformative potential of the Abraham Accords. The UAE-IL Tech Zone has been a trailblazer in bringing together Emirati, Israeli and American young leaders to shape a brighter future for the region. We are proud to partner with the Tech Zone, and to support their activities."
###
Learn more about the UAE-IL Tech Zone's work HERE.