Analysis
3 Years of Abraham Accords Innovation Cooperation: Progress and Unrealized Potential
August 31, 2023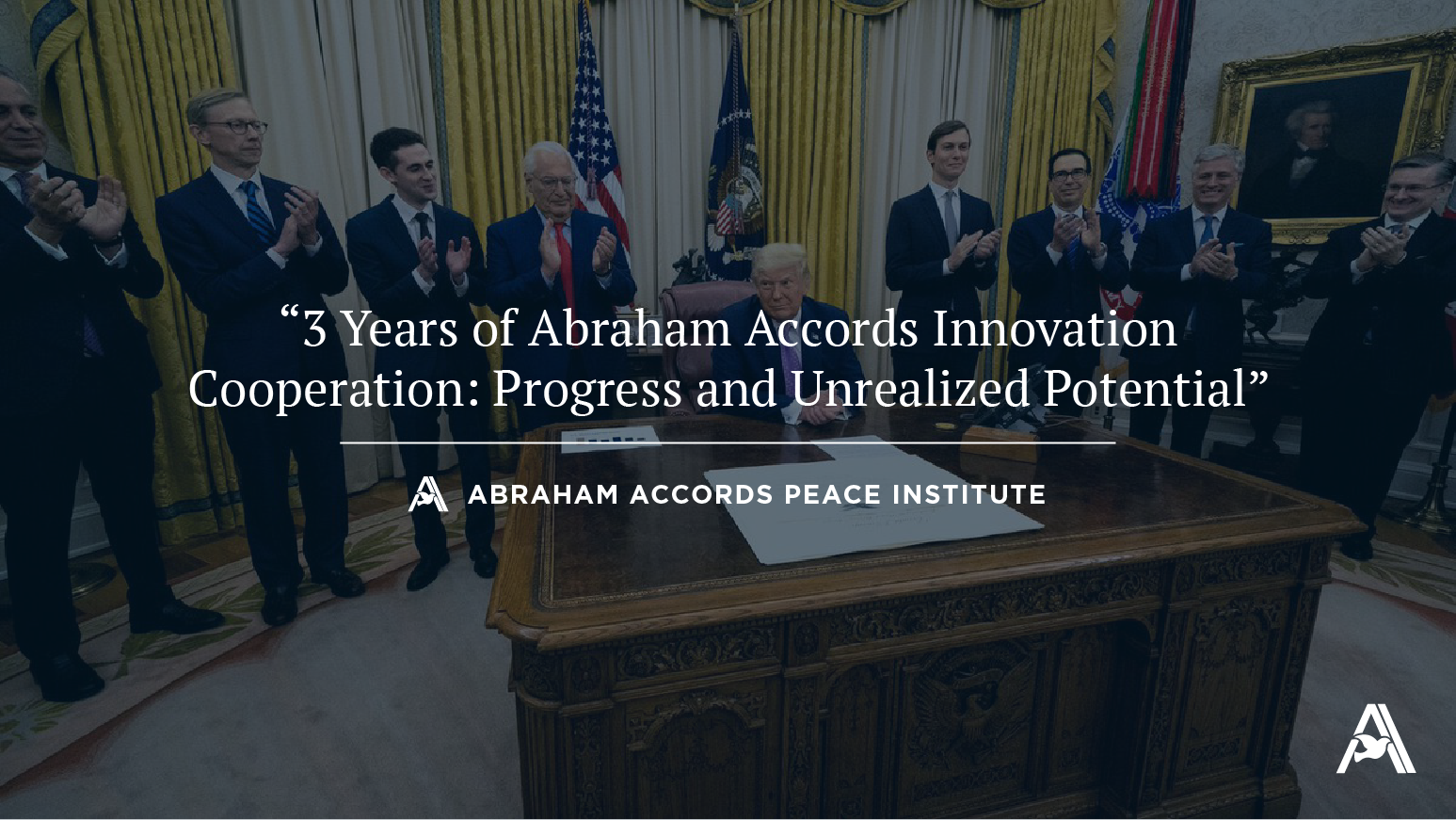 Three years to the historic Abraham Accords, tech and innovation have emerged as among the areas of cooperation with both the greatest progress and the greatest unrealized potential. Since the signing of the Accords, we have witnessed ground-breaking initiatives between entrepreneurs, innovation hubs and companies from Accords' member nations. However, we have also seen obstacles and barriers which must be overcome in order to unleash the full potential of innovation collaboration across the region.

Innovation and technology, as key drivers of economic diversification, prosperity and resilience, played an important role in encouraging the parties to agree to the Abraham Accords. The UAE-Israel Treaty of Peace and Normalization declares, "The Parties acknowledge the important role of science, technology and innovation in the growth of multiple key sectors and shall strengthen joint action and mutual cooperation in scientific and technological advancement." The Morocco-Israel-US Joint Declaration also calls for cooperation in innovation and technology.

The past three years have seen numerous exciting examples of cooperation in these fields. To name just a few, on the institutional and organizational levels: Israel's Start-Up Nation Central, has held, together with Moroccan and Bahraini partners, bilateral 'Connect to Innovate' conferences in Manama and Marrakech, as well as a regional 'Connect to Innovate' conference focused on women's leadership. The UAE-IL Tech Zone has created a community of tech leaders and launched the T3 program bringing together young Israeli, Emirati and American professionals. Additional organizations including the UAE-Israel Business Council, DANA Global, PICO Kids, Tikkun Olam Makers, various medical institutions and others have launched successful tech initiatives between Abraham Accords countries. Emirati entities including ADGM, Hub71, ADIO, G42, DFIC and Dubai Future Foundation have advanced joint programs with Israel's Embassy and Consulate, and with private sector counterparts.

On the commercial level, several Israeli tech-based companies, funds and financial bodies, such as Liquidity Group, OurCrowd, ThetaRay, Watergen, Rapyd and others, have established offices and R&D centers in the UAE, helping bring their experience and know-how to the country. The UAE's sovereign wealth funds have made several public investments in leading Israeli VCs and start-ups. Israel's Exigent Capital hired the former head of Bahrain's Sovereign Wealth Fund to lead its operations in Manama and the wider MENA region. Morocco's Gaia Energy and Israel's H2Pro signed a strategic agreement to produce green hydrogen, and Moroccan scientists in fields related to energy and natural resources are carrying out research in Israeli universities.

These are only a small sampling of the numerous examples of mutually beneficial cooperation in the wake of the Accords.

Nevertheless, despite the successes to date, the potential for innovation cooperation is far from being realized, and numerous challenges have become apparent. On the intergovernmental level, differences in aims, emphases and modes of operation have delayed the launch of the planned UAE-Israel R&D Fund, and contributed, together with geopolitical factors, to the slow progress of the Prosperity Green + Prosperity Blue projects (which however appear to be now moving forward.) Key intergovernmental agreements between Israel and Bahrain, and Israel and Morocco, have yet to be signed, hampering economic ties. Expedited progress on the governmental level is key for creating the conditions for fruitful cooperation.

On the private sector level as well, there is room for enhancement. In 2021, The UAE's Minister of State for Entrepreneurship and SMEs, HE Ahmad al-Falasi, declared that the UAE's aim was to be home to 20 start-up 'unicorns' by 2031. Israel's experience and expertise in producing dozens of such unicorns, despite the country's small size, could be quite valuable in assisting the UAE's efforts to reach this goal.

However, it appears that despite the potential benefits to be derived from a focus on skill-sharing and in-depth collaboration, a main thrust of the UAE and Bahrain's efforts have been to try and convince Israeli companies to set up operations in their countries. While this makes great business sense for some Israeli companies, many small to mid-sized Israeli start-ups will continue to maintain their traditional focus on markets such as the US, Europe, East Asia and India.

A better strategy may be to emphasize joint programs for Israeli, Emirati and Bahraini entrepreneurs, including programs through which young tech workers from Abraham Accords countries have the opportunity to participate in professional internships in Israeli start-up unicorns. The experience of working directly in an Israeli company that has already, or is on its way, to achieving unicorn status, could prove highly valuable when these entrepreneurs return to their home countries. In order for such internship programs to be successful, various obstacles, ranging from visa and travel issues to anti-normalization pressures, will need to be addressed.

Additionally, building on the successful initiatives between innovation hubs and civil society organizations, an 'Abraham Accords Innovation Network' could facilitate win-win cooperation (e.g., workshops, mentorships, pitch events, funding opportunities, and business partnerships) on an ongoing basis.

Tech and innovation is also an area where the involvement of third parties on both the governmental and private sector levels, for example from the US, Europe or Asia, could be highly significant. While the Biden Administration chose not to establish the Abraham Fund envisioned by the Trump Administration, recent proposed Congressional legislation includes the establishment of a fund to promote cooperation in the framework of the Abraham Accords, Negev Forum and broader regional integration efforts. Active US support for tech and R&D collaboration can make a major contribution to promoting successful outcomes that will be a model for further initiatives.

It is important to emphasize that the potential of innovation cooperation is an important incentive for further expansion of the Abraham Accords and regional integration. Arab and Muslim countries, from the Gulf to southeast Asia to North Africa, as well as Israel's historical peace partners, Egypt and Jordan, are looking to diversify their economies, attract investment, and accelerate growth. Innovation and technology, for example, are a vital component of Saudi Arabia's Vision 2030 and mega-projects such as NEOM. Therefore, ensuring the tangible success of joint innovation projects, overcoming barriers and encouraging third-party support, are key to enlarging the circle of warm peace in the region.